Release Recruitment Classified Ad in Lokmat Kokan Newspaper
When it comes to finding the right people for jobs, the Lokmat Kokan Newspaper is a great choice. This newspaper is very popular in Kokan and is well-liked by the people there. They enjoy reading the news and stories in it. Lots of people prefer reading newspapers more than other things, so if you put your job ads in this newspaper, many people will see them.
If you want your organization to grow and do well, you need to hire the right people. You can do this by putting job ads in the Lokmat Kokan Newspaper. This helps you find the perfect people for the jobs you have. Many people read the Lokmat, so you can reach lots of skilled people. You can choose different types of ads like Classified, Classified Display, and Display ads to find the best talent.
If you're seeking to publish a Recruitment Classified Ad in Lokmat Kokan Newspaper, you're in the right spot. It's easy to put your job ads in the Lokmat Kokan Newspaper. With Ads2publish, booking your Recruitment classified ad at the most affordable rates in Lokmat Kokan Newspaper is simple. You just need to click a few times, and it's not expensive. This way, lots of people will see your ads, and your organization can hire best employees.
Recruitments Advertising in Lokmat Kokan Newspaper FAQ's:
A. The Cost of Recruitments Ad in Lokmat Kokan starts from Rs. 200 / 4 Line. After drafting the Recruitments Ad while online booking you will know the actual cost.
A. You will have to book the Recruitments Ad 2 days prior for publishing on Saturday & Sunday in Lokmat Kokan Newspaper. And for other weekdays Recruitments Ads are accepted 1 day prior also.
A. Other than Lokmat, following are the newspapers in which you can post Recruitments Ad in Kokan.
Lokmat, newspapers are published from Kokan city.
Benefits of Recruitments Advertising in Lokmat Kokan Newspaper:
Advertising in the Lokmat Kokan Newspaper offers numerous benefits for businesses and individuals looking to reach their target audience effectively in Kokan city. As one of the leading newspapers in Kokan, the Lokmat enjoys a wide readership and a strong reputation, making it an ideal platform for advertising.
Lokmat's daily frequency ensures quick responses to Recruitments advertisement, making it an effective choice for time-sensitive advertising.
Lokmat's established credibility and reputation lend credibility to your advertisement. People in Kokan tend to trust information presented in reputable newspapers.
Whether you're targeting a local audience in Kokan or aiming for a broader national presence, the Lokmat allows you to choose the scope of your advertisement, maximizing your reach and impact.
How are Rates charged for Recruitments advertisement in Lokmat Kokan?
Recruitments Ad in Lokmat Newspaper for Kokan city are accepted in two formats. One is Classified Text Ad and the other one is Classified Display Ad. The Ad Rates differ for because of the difference in their format and placement in Lokmat Newspaper.
Classified Text Ads in Lokmat Kokan are formated in simple running text. They are charged based on the number of Line or words used in the advertisement content. To enhance your Recruitments Classified text ad you can use enhancements options like Background Color, Bold, Tickmark for higher visibility by paying some extra cost for Kokan City.
Classified Display Ads in Lokmat Kokan can be design according to your own choice using different font, images and logos. Recruitments Classified Display Ad are charged per square centimeter in Lokmat Newspaper. But their is restriction for minimum and maximum Height and Width to be taken. You can choose B/w or Colour advertisement as cost of advertisement may vary for B/w and Colour.
Payment Options for Booking Recruitments Ad in Lokmat Kokan Newspaper
While booking Recruitments Ad Online for Lokmat Newspaper in Kokan, you get 2 options for making payment. First one is Online Payment through which you can pay through Credit / Debit Cards and Internet Banking, GPay, PayTm and Second one is Offline Payment option through which you can deposit the amount through Demand Drafts, Cheques and Cash payment in our Bank account.
We help you to Book Newspaper Ads Online as we are leading Advertising Agency in Kokan. Its now very easy to give Recruitments Ad in Newspaper sitting at home / office through online booking. There are various newspapers in Kokan city. You can book Recruitments Ad in Kokan newspapers in their Classifieds column.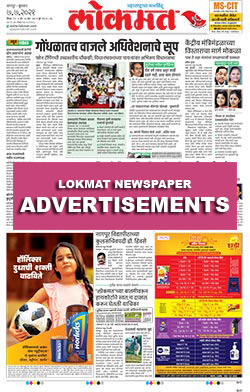 Why choose Ads2publish for booking your Recruitments classified ad in Lokmat Kokan Newspapers:
Ads2Publish provides easy online ad booking system to book Recruitments classified ad in Lokmat Kokan Newspaper with lowest rates offered. With our online newspaper ad booking service you can release Recruitments ad just on clicks.
A great customer support team is available for you to ensures you don't face any problem while booking your Recruitments ad or tracking in Lokmat newspaper. You can contact us via Live Chat, Call us or Email Us for any requirement.
Our Customer Support team is available from 10:00am to 7:00pm but you can book your ad 24x7 online. You can book your ad at your convenience. You can even call our Lokmat Kokan Advertising Department at +91-8121003003 for any help required in Ad Booking.
Offers and packages of Recruitments Ads have been effectively showcased for Lokmat Kokan Newspaper so that you don't miss the opportunity to grab the best offer.
We have tried to build a solution to eradicate the burden of going to the Publication house to book Recruitments ad in Newspaper through our Online booking process. We take special care to see that your Recruitments ads are published in the earliest possible date.
Book Ad in Lokmat Kokan Newspapers for Popular Ad Categories
Check out Rates and book your ad online for the following popular Ad categories in Lokmat Kokan Newspaper.
Choose other leading Newspapers for Recruitments Ad in Kokan along with Lokmat
If you are looking for larger impact for Recruitments Ad in Kokan then why not advertise in other popular newspapers in Kokan. Following is the list of Newspapers for which you can check cost and book your ad through Ads2Publish.com.