Lokmat Classifieds Ad Rates:
For Lokmat Classifieds, the base cost covers 4 Lines, with additional Line incurring extra charges. The maximum word limit is 20 Lines. Enhancements like Bold text or Tick Marks are available for added fees. Here are the charges for various Ad Categories.
| Ad Rates for | Rate Starting from |
| --- | --- |
| Lokmat Matrimonial Ad | Rs. 275/- for 4 Lines |
| Lokmat Recruitment Ad | Rs. 290/- for 4 Lines |
| Lokmat Property Sale Ad | Rs. 290/- for 4 Lines |
| Lokmat Property Rent Ad | Rs. 200/- for 4 Lines |
| Lokmat Business Ad | Rs. 320/- for 4 Lines |
| Lokmat Name Change Ad | Rs. 200/- for 4 Lines |
| Lokmat Vehicle Sale Ad | Rs. 275/- for 4 Lines |
| Lokmat Lost Found Ad | Rs. 200/- for 4 Lines |
About Lokmat Marathi Newspaper
Lokmat Marathi Newspaper holds a significant place in the world of news, especially in Maharashtra. It brings together a mix of news, opinions, and stories that catch the attention of people living in various cities like Nagpur, Mumbai, and Pune. It all began in 1971 when Jawaharlal Darda started this newspaper in Nagpur, and since then, it has become widely known and respected.
What's really cool is that a lot of people enjoy reading Lokmat – around 5.9 million of them! This makes it one of the top newspapers in India. It's not just any newspaper, though – it's the most popular Marathi newspaper, with about 1.4 million copies being picked up every single day. That's a lot of newspapers!
Lokmat isn't only in Marathi. It also has versions in English and Hindi, known as Lokmat Times and Lokmat Samachar. This means it talks to people in different languages, making sure more people can understand what's going on in the world.
Think of Lokmat as more than just pieces of paper with words and pictures. It's like a friend that helps people know what's happening around them and gives them a space to share their thoughts. It's a pretty big deal when it comes to connecting with people and making sure everyone is on the same page.
Imagine Lokmat as a bridge. It brings people closer by letting them know what's important, and it also gives them a way to talk about things that matter to them. So, whether you're in a bustling city or a quiet town, Lokmat is there, making sure you're in the loop and part of the bigger conversation.
Benefits of Advertising in Lokmat Marathi Newspaper: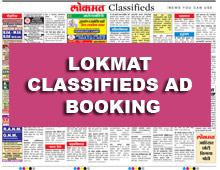 Advertising in Lokmat Marathi Newspaper: Connecting with Maharashtra's Communities
Reaching Marathi-Speaking Readers:
Extending Across Key Cities
Connecting with Communities Statewide
Credibility and Popularity:
Trusted Source of Information
Widely Read Among Marathi Audiences
Tailored Messages for Language Preferences:
Marathi, English, and Hindi Editions
Customizing Ads for Different Language Groups
Diverse Advertising Options:
Leveraging Lokmat's Offerings
Meeting Specific Needs and Goals
Engaging Local Communities:
Strengthening Connections in Cities like Nagpur, Mumbai, and Pune
Boosting Brand Visibility
Cost-Effective Impact:
Budget-Friendly Strategies
Reaching a Wide Audience Affordably
Advertising in Lokmat Marathi Newspaper offers a straightforward way to connect with Marathi-speaking communities. This provides a cost-effective and reliable platform to effectively reach Marathi readers across Maharashtra's cities through Lokmat Newspaper.
There are various advertising option in Lokmat Newspaper. Choose the advertising option according to your requirement. Lokmat Classified Column is popular for Matrimonial, Property, Recruitment (Jobs), Name Change, Services, Lost Found advertisements. Book your classified ads in Lokmat Newspaper. Classifieds Column in Lokmat publishes every day in the Newspaper but the response are more for Matrimonial Ads on Sunday, Property, Rental Ads on Saturday and Sunday, Recruitment Ads and Name Change Ads on all days.