Option to book Times of India Ads:
There are primarily three options to book ad in The Times of India Newspaper. For any of the following option, you can simply book advertisement online through this website.
Option 1.

Times of India Classifieds Ads Booking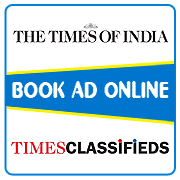 Classifieds Ads in the Times of India are the most cost-effective way to do marketing through the newspaper. There is a particular section called Times Interact for Classifieds, which are displayed in basic plain text style under specified categories. They are charged based on number of Lines consumed.
Some enhancement choices are available to improve the visibility of your ad, such as making the ad text bold, using a background color, adding a tick-mark at the beginning of your Ad, adding a border, and so on. Choosing these improvements would cost just a few bucks more.
To book Classifieds Advertisement in Times of India, Click here
Classifieds Ads categories in the Times of India:
To book a Classifieds Advertisements in the Times of India newspaper, you need to starting with select a Category from the list. Following are the most popular categories, for which the majority of ads are booked.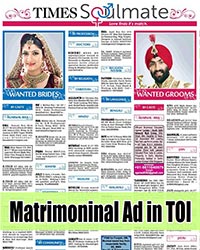 Every Sunday, there is a special feature called Times Soulmate that is meant for matrimonial ads. Matrimonial heading is further subdivided into two categories: Wanted Bride and Wanted Groom. These subheadings are divided further into Caste, Language, Religion, Community, and Profession. Publishing a Marriage Ad by selecting the appropriate Sub-heading helps in obtaining the most relevant replies.
Times of India offers a variety of discount packages which are best for Matrimonial Ads. It is very simple to post Matrimonial Ads in the newspaper through Ads2Publish.com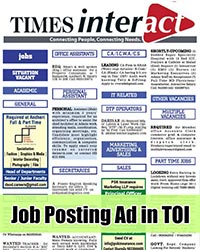 Recruitment Classifieds Advertisements in The Times of India Newspaper are displayed in the Times Interact feature under the Job Section. There is also a special feature for Job Ads called Times Ascent, which publishes every Wednesday. There are various sub-heading under Situation Vacant. You will have to select the right heading to get good response. In most cases, putting a Situation Vacant advert in the Times of India newspaper generates a significant number of prospective resumes.
The publication offers special discounts which are best for Recruitment Category. Releasing a recruitment ad in the newspaper is a breeze with Ads2Publish.com.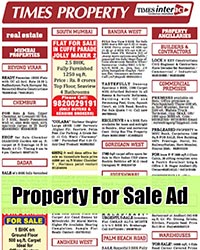 Property Sale Ads are featured in the Times Interact section under the heading Property Ads. In addition, every Saturday, a unique feature called Times Property is published. This category also includes a number of sub-headings under which you may get your property advertising published in the newspaper. The response to the Classifieds in Property Times has been fantastic. The Realtors generates many inquiries through this option.
Its a simple job to post a property ad in TOI Newspaper at Ads2Publish.com.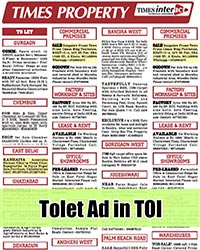 Property to Rent Classifieds are also featured in Times Interact under the Property Ads category. Every Saturday, these are also featured in the Times Property section. Property for rent classifieds provides a selection of subheadings to choose from. Property to rent advertisements link property owners and renters for full filling their needs.
Releasing a Property Rental Ad in TOI is now a breeze with Ads2Publish.com.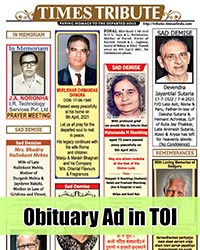 Obituary Announcement Ads in The Times of India newspaper are published under the Times Tribute Section. Times of India offers special discounts for Death Notice Ads. This kind of ads are allowed in the Classifieds Section as plain text and in the Classified Display Section you can place a photo along with the content.
Booking an Obituary Ad in newspaper is extremely easy through Ads2Publish.com.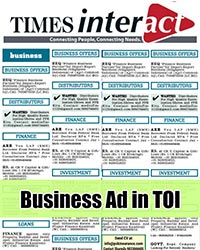 Business-related advertisements are often published using Classified Display or Display Options. However, certain advertisements, such as Business for Sale, Business Offers, Business Services Offered, and so on, are published using the Classifieds option. Businesses who wish to promote at relatively minimal prices advertise in the Times Classifieds.
Publishing Business in TOI Newspaper is quick job through Ads2Publish.com.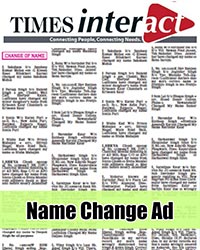 Change of Name Ads are published in the Times Classified section. You can get Name Change Ad released on any day of the week. The rates are concessional for Name Change Ads as compared to other categories. A scanned copy of the full notarized document is needed to book a name change ad in the newspaper. If you don't have an affidavit, you may provide a gazette copy, which will also suffice as a document for verification.
Posting a Name Change Announcement in Times of India Newspaper is indeed an easy task with Ads2Publish.com.
Option 2.

Classified Display Ad in Times of India.

Classified Display Ads works in the same way as a Classifieds Advertisements. This advertisement is also featured in the Times Interact feature. Choosing a Category for Classifieds and Classified Display is the same.

The difference between a Classifieds and a Classified Display Ad is that instead of utilizing plain text, you may design the look and feel of your ad. In Classified Display Ad, you may include a logo, an image, and a different font style. Ad prices for Classified display ads are determined per square centimetre. The smallest size that may be accepted is 3x5 centimetres.

To book Classified Display Ad on the Times of India Newspaper, Click here
Option 3.

Times of India Display Advertisement.

Display Ads in The Times of India Newspaper are the best way for businesses to effectively promote their brand to larger audience. Display advertisements are often displayed beside editorial articles in the newspaper. It is said to be a high-budget newspaper advertising medium.

Display ads in TOI may be placed in both the main newspaper and the numerous category-specific features such as City Times, Times Ascent, Times Property, Education Times, Times Zigwheels, and so on.

Times of India Display Advertisement allows you to select the placement of the advertisement. Get it published on the front page, back page, page three, or any other page of your preference. Furthermore, you may also choose any size for your display ad.

Display advertising offers you flexibility to promote in prominent spots in the newspaper, but it is considerably more expensive than other advertising options. If you want to book a display ad in the newspaper, Ads2Publish can provide you with the lowest pricing. We negotiate with the newspaper based on our experience and skill, and we try to get the best possible pricing for your display advertisement in TOI.
Times of India Advertisement Publishing Details:
Publishing Page:
Times Classifieds Column
Publishing Days:
All days in a week (Sunday to Saturday)
TOI Ad Booking Deadline:
1 day Prior for all categories except Matrimonial & Property
Friday for Matrimonial, Thursday for Property.
To be booked before 1 pm
Hurry Up. Deadline closes soon for the next edition of Times of India. Book Classifieds Ads online and get instant Confirmation.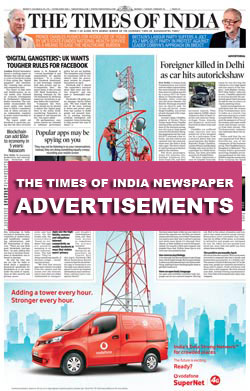 How to book Advertisement in Times of India Newspaper?
Select Ad Category. To place an ad in The Times of India, first select an Ad Category and choose [Classifieds or Display] as the Ad Type.
Choose City. Now, select the city where you want to advertise in the TOI Newspaper. You can also choose customized ad packages that provide cost-savings option for placing ad in several cities.
Select Date. The next step is to choose a date from the Calendar to schedule the Advertisement for publication in the Newspaper.
Draft Ad. The next step is to write your ad content. Refer to our Ad Samples to draft an effective & brief newspaper ad.
Make Payment. The last step is to check the cost & reconfirm the booking details and then make the payment using a Credit / Debit Card, G Pay, PayTM or Bank Transfer.
So, by following this simple procedure, your advertisement is confirmed for publication in the newspaper. When you make a successful payment, you will get a booking confirmation email along with a GST Invoice.
What is the cost of Advertisement in Times of India?
The advertising cost in the Times of India newspaper ranges from Rs. 300 for Classified Ads to Rs. 50 lakh for a full-page advertisement, with the lowest cost being Rs. 300. So to know more about the Ad cost, Click here
There are a variety of criteria that influence the pricing for publishing an advertisement in the TOI.
Prices vary depending on the kind of advertisement you want, the category you choose, and the number of editions you like to get your ad print in.
Classified Ads in Times Interact are charged per Line, whereas the rates for Display Ads are charged in Rupees per square centimeter.
The cost of a display advertisement varies based on the page on which it is placed.
When compared to other pages, the costs for the Front Page, Back Page, and Page3 are much higher.
What are the payment options available to book an ad in Times of India?
We accept payment through various option. You can make payment through the following options for booking your ad in TOI Newspaper:
Credit Card (Mastercard, Visa, American Express)
Debit Card (Mastercard, Visa, RuPay)
Netbanking (From all major Banks in India)
UPI (GPay, PayTm, PhonePe and many more)
e-Wallet (Airtel Money, CitrusPay, Eko, ICICI Pockets, Idea Money, ITZ Cash, Ola Money, Reliance Jio Money, The Mobile Wallet)
Bank Transfer: (You can transfer the amount through IMPS or NEFT
Cash Deposit: (You can deposit Cash in our Bank Account.
Is there any discount offered for Advertisement in Times of India?
Yes, When you advertise in the TOI Newspaper, you can take advantage of a variety of discounts and packages. The offers differ for every ad category.
To check the offer, Click on this link and after landing on The Times of India Ad booking page, choose an ad category. Then you will be able to view all available offers.
Furthermore, Ads2publish provides an additional 5% discount when you book an advertisement online for the TOI newspaper.
To get the discount, use the code PROMO2013 on the Payment Page.
The key benefits of booking an ad online for the TOI newspaper :
Gone are the days when ads were booked by physically visiting to the TOI newspaper office and manually filling out the form, standing in line, racing to meet deadlines, or locating Times of India Ad Agents.
You can now book an advertisement for the TOI Newspaper online with minimal effort.
Fast & Easy. With just a few clicks, you can easily book an ad in the Times of India newspaper. To finish the procedure, just follow the easy steps provided.
Simple to Understand. The advertisement booking procedure is very simple. Every step, such as selecting a category, city, understanding the cost, writing the ad, and completing the payment, is presented in a very simplified form at Ads2Publish.com
Lowest price. When you book ads online for the TOI newspaper, Ads2Publish offer exclusive deals and a discount.
Excellent support. We've got a fantastic customer support team that can assist you while booking your ad online. Connect them via Live-Chat option on the website or talking to them on +91-8121003003
Why Choose Ads2Publish for Advertising in Times of India?
1. Streamlined Ad Booking Process:
Transforming Times of India ad bookings, Ads2Publish introduces an intuitive online platform. As an authorized Advertising Agency sanctioned by Times of India, we provide seamless access to their advertising inventory.
2. Authorized and Experienced:
Your Trusted Times of India Online Ad Booking Platform.
When you choose Ads2Publish, you're choosing expertise and trust. We are an authorized Online Advertisement Booking platform endorsed by Times of India. With over two decades of industry experience, we have established ourselves as a leading player in the field. This authorization is a testament to our credibility and commitment to providing top-notch advertising solutions. When you work with us, you're working with a trusted partner who understands the advertising landscape.
3. Competitive Pricing, Outstanding Results:
Achieve Excellence in Times of India Advertising
At Ads2Publish, we understand that cost-effectiveness matters. Our competitive pricing model ensures that you get the most value for your investment. You don't have to compromise on quality to stay within your budget. Whether you're a small business or a large enterprise, our pricing structure caters to your needs. Achieve outstanding results without breaking the bank. With Ads2Publish, excellence in Times of India advertising is within your reach.
4. Expert Support at Your Fingertips:
Dedicated Customer Support for Seamless Ad Booking
Navigating through the ad booking process has never been easier. Our dedicated customer support team is here to assist you every step of the way. Reach out to us via phone, email, or live chat from Monday to Saturday, 10 am to 7 pm. Have questions? Need guidance? Our experts are ready to provide you with the support you need. We ensure that your ad booking experience is smooth and hassle-free.
5. Thousands of Satisfied Clients:
Testimonials of Success in Times of India Advertising
Our track record speaks for itself. Thousands of satisfied clients have chosen Ads2Publish for their Times of India advertising needs. These success stories reflect our commitment to delivering effective advertising solutions. We take pride in contributing to our clients' achievements and helping them reach their goals through our services. When you choose Ads2Publish, you're joining a community of successful advertisers.
6. One Platform, Multiple Options:
Expand Your Reach with Ads2Publish's Newspaper Ad Services
The power of choice is at your fingertips. With Ads2Publish, you're not limited to Times of India alone. Our platform offers you the opportunity to reach a wider audience by booking ads in multiple newspapers. From Times of India, Deccan Chronicle, The Hindu, Hindustan Times, Dainik Bhaskar, Dainik Jagran, Eenadu, Lokmat, Malayala Manorama, Sakal, The Tribune, Gujarat Samachar, we cover a diverse range of newspapers. One platform, multiple options - Ads2Publish empowers you to expand your reach and make a bigger impact.