The Tribune offers a comprehensive suite of advertising options to cater to your specific needs. From captivating display ads to concise classifieds, recruitment ads, property ads, and even obituary ads in special feature, you have the freedom to choose the avenue that best suits your message.
The Tribune Newspaper: A Trusted Beacon of Unbiased News and Thought
As the largest selling daily English newspaper in North India, The Tribune stands as an unwavering pillar of information, delivering news and perspectives free from any form of bias or prejudice. Its commitment to neutrality is a hallmark of its identity. This esteemed publication stands as a true bastion of journalistic independence, a beacon that navigates the complex sea of information with integrity.
Beyond its English edition, The Tribune's legacy expands to encompass two equally significant sister publications – Punjabi Tribune (in Punjabi) and Dainik Tribune (in Hindi). This triumvirate of newspapers collectively upholds the newspaper's enduring commitment to providing news and insights in languages that resonate with diverse audiences.
With a remarkable history spanning over 133 years, The Tribune's origins trace back to Lahore, Pakistan, where it was founded on February 2, 1881. Its visionary inception was the result of the dedication of Sardar Dyal Singh Majithia, a forward-thinking philanthropist whose vision transcended borders.
Today, The Tribune has found its home in Chandigarh, India, continuing its legacy of unbiased reporting and thoughtful analysis. A testament to its integrity, The Tribune operates under the stewardship of a trust led by four distinguished trustees. This governance structure underscores the publication's commitment to remaining true to its core values and to its readership.
The Tribune isn't merely a newspaper; it is a testament to the power of informed journalism, a reflection of its founder's ideals, and a source of reliable information that North India can count on. It continues to illuminate the present and guide the future with the unwavering light of truth and integrity.
Elevate Your Brand by Advertising in The Tribune Newspaper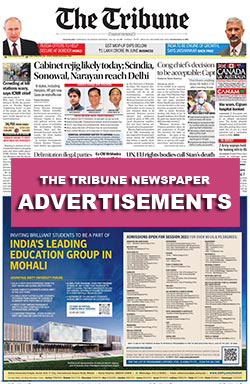 Advertising in The Tribune newspaper offers a multitude of advantages for your marketing efforts:
Broad Reach: The Tribune's extensive readership in North India ensures your message reaches a diverse audience.
Credibility: Align your brand with The Tribune's unbiased reporting for enhanced trustworthiness.
Targeting: Precisely reach specific regions or demographics through The Tribune's distribution network.
Multilingual Reach: Extend your impact with Punjabi and Hindi sister publications.
Local Connection: Cultivate a local presence and engage with your community.
Online Amplification: Extend your reach through The Tribune's digital platform.
Book your Classified Ads in The Tribune Newspaper
Unlock the potential of effective advertising by securing your spot in The Tribune newspaper. The Classifieds Column in Tribune Chandigarh is a daily platform for reaching your audience, with heightened responses observed for Matrimonial Ads on Sundays, Property and Rental Ads on Saturdays and Sundays, as well as Recruitment and Name Change Ads throughout the week. Don't miss the chance to leverage The Tribune's influence for your advertising endeavors.