The Hindu Display Advertising
The Hindu offers a comprehensive suite of advertising options to cater to your specific needs. From captivating display ads to concise classifieds, recruitment ads in Opportunities, property ads in Property Plus, and even obituary ads in Obituaries & Remembrance feature, you have the freedom to choose the avenue that best suits your message.
The Hindu Newspaper: A Legacy of Credibility and Impact
For nearly 150 years, The Hindu has stood as a paragon of journalistic integrity and excellence. Founded in 1878 as a weekly, it transitioned to a daily in 1889, embarking on a remarkable journey that has left an indelible mark on India's media landscape.
With a circulation of more than 15,00,000 copies and a readership of around 30 lakhs, The Hindu's influence is palpable. It has evolved into more than a newspaper; it is a trusted source of information, insights, and perspectives for millions.
Headquartered in Chennai, The Hindu Newspaper is printed across seventeen centers, including Coimbatore, Bangalore, New Delhi, and Kolkata. This expansive reach ensures its impact reverberates from urban metropolises to tranquil towns.
Beyond its circulation, The Hindu's legacy is defined by its meaningful contributions. It has been a platform for critical debates, a mirror reflecting society's evolution, and a catalyst for change. Its commitment to unbiased reporting and ethical journalism has garnered unshakable reader trust.
In an era of digital transformation, The Hindu's unwavering commitment to print journalism remains commendable. Its journey from a weekly publication to a national daily newspaper is a testament to its enduring relevance and impact. As it continues to illuminate minds and shape perspectives, The Hindu stands as a resounding symbol of journalistic integrity, informing, inspiring, and influencing generations.
Navigating Opportunities: Advertising in The Hindu Newspaper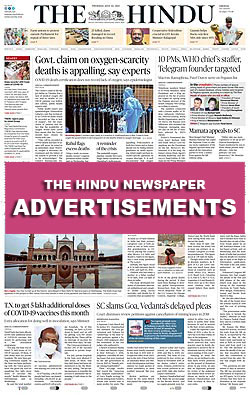 In the realm of effective communication, advertising plays a pivotal role in connecting businesses with their target audience. Among the myriad options available, The Hindu newspaper stands as a distinguished platform that offers a spectrum of advertising choices, each with its own set of advantages. As we explore these options, let's delve into the unique benefits they bring to the table.
1. Classifieds Advertisements: A Versatile Canvas for Concise Messages
Classified advertisements in The Hindu provide a concise yet impactful way to convey your message. Whether you're promoting a product, service, job vacancy, or real estate listing, classifieds allow you to capture attention with carefully chosen words. Their affordability and ability to reach a broad readership make them an excellent choice for targeted marketing.
2. Display Advertisements: Making a Bold Statement
Display advertisements add a splash of creativity and visual appeal to The Hindu's pages. These ads command attention with eye-catching designs, vibrant visuals, and engaging content. Display ads are well-suited for brand promotion, product launches, and events. They offer a larger canvas for storytelling and can effectively capture the essence of your brand.
3. Recruitment Advertisements: Connecting Employers and Talent
The Hindu's recruitment advertisements bridge the gap between employers and job seekers. With its extensive reach and credibility, the newspaper serves as a trusted platform for job postings. Whether you're a company looking for the right candidate or an individual seeking opportunities, The Hindu's recruitment section offers a symbiotic space for professional connections.
4. Property Advertisements: Showcasing Real Estate Opportunities
For those involved in real estate, property advertisements in The Hindu offer a powerful avenue to showcase available properties, whether for sale or rent. The newspaper's diverse readership ensures that your property listing reaches potential buyers or tenants across different regions.
5. Obituary Advertisements: Honoring Memories and Sharing Condolences
Obituary advertisements provide a respectful and compassionate way to commemorate the lives of loved ones. The Hindu's platform allows you to share the details of memorial services, express condolences, and preserve cherished memories.
The Advantages of Advertising in The Hindu:
1. Widely Trusted Source: The Hindu has earned a reputation for reliable and unbiased reporting. Associating your brand with this trusted newspaper enhances the credibility of your message.
2. Extensive Reach: The Hindu's vast readership spans different regions, ensuring your advertisement reaches a diverse audience.
3. Targeted Engagement: With different advertising options, you can tailor your approach to specific goals and demographics, optimizing your reach and impact.
4. Tangible Presence: Print advertisements in The Hindu provide a tangible presence that engages readers and enhances brand recall.
5. Brand Association: By aligning with The Hindu, you align your brand with a legacy of journalistic excellence and integrity.
In the dynamic landscape of advertising, The Hindu newspaper emerges as a versatile and influential platform, offering a range of options to suit diverse needs. Its wide readership, credibility, and tailored advertising choices make it a compelling avenue for businesses and individuals alike to convey their messages effectively and make a lasting impact.