Deccan Chronicle: Premier English Newspaper in Hyderabad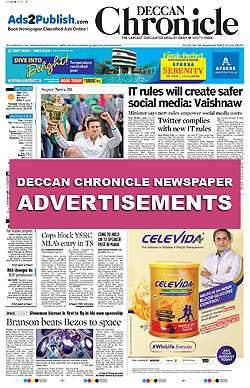 Deccan Chronicle proudly stands as the top English newspaper in Hyderabad. It's a respected name with a long history and is the most widely read English daily in the region. It's like a trusted friend, bringing news, insights, and stories to millions of people in Telangana, Andhra Pradesh, Tamil Nadu, Karnataka, and Kerala.
Every single day, Deccan Chronicle's pages travel to over 1.45 million homes across South India. It's like a messenger that reaches big cities, small towns, and every corner, connecting with a diverse group of readers.
Imagine a journey that spans across eleven editions, covering different places and cultures in South India. From the busy streets of Hyderabad to the coastal beauty of Vishakapatnam, the bustling vibes of Chennai, and the innovation hub of Bengaluru, Deccan Chronicle's presence is felt in Hyderabad, Vijayawada, Rajahmundry, Anantapur, Karimnagar, Nellore, Chennai, Coimbatore, Bengaluru, and Kochi.
When you read Deccan Chronicle, you're exploring a colorful tapestry of stories, ideas, and opinions that mirror the vibrant spirit of South India. It's like a lighthouse of information, sparking conversations, and making a positive impact on people's lives in every part of South India.
Advantages of Advertising in Deccan Chronicle
Advertising in the Deccan Chronicle newspaper offers a multitude of advantages, amplified by its diverse range of available advertising options. Here's why advertising in Deccan Chronicle is a strategic move for your brand:
Extensive Reach: Deccan Chronicle holds the distinction of being the largest circulated English newspaper in South India. Your advertisement will be seen by millions across Telangana, Andhra Pradesh, Tamil Nadu, Karnataka, and Kerala, giving you access to a vast and varied audience.
Credibility and Trust: The newspaper has built a strong reputation for credible and unbiased reporting. Associating your brand with Deccan Chronicle lends your message an air of authenticity and trustworthiness.
Targeted Engagement: With multiple editions tailored to different regions, you can precisely target your desired audience. Whether you're aiming at a specific state or city, Deccan Chronicle provides the platform to effectively engage with your niche market.
Local Impact, Pan-Regional Coverage: Leverage Deccan Chronicle's regional editions to connect with local communities while enjoying the broader reach of a newspaper that spans several states.
Print and Online Exposure: Benefit from the dual impact of print and online advertising. While your print ad reaches the newspaper's physical readership, its online presence extends your visibility to a digital audience.
Brand Recall and Recognition: Regular advertising in Deccan Chronicle enhances brand recall. Your consistent presence in its pages can lead to heightened recognition and familiarity among readers.