Following are the booking centres to advertise in Dainik Bhaskar Newspaper.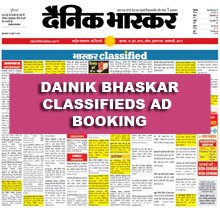 Dainik Bhaskar is an Hindi Language Indian Newspapers. It was founded in 1958 in Bhopal, Madhya Pradesh. Today it is the largest daily newspaper in India having presence in 12 states and 40 editions which also made Dainik Bhaskar world's 4th largest circulated daily newspaper in 2013-14.
Dainik Bhaskar has 5 editions in Madhya Pradesh, 4 editions in Chattisgarh, 12 editions in Rajasthan, 3 editions in Haryana, 4 editions in Punjab, 7 editions in Bihar and Jharkhand and 1 edition each in Chandigarh, Himachal Pradesh, Uttarakhand, Jammu and Kashmir and New Delhi.
Book your classified ads in Dainik Bhaskar Newspaper. It offers various advertising options in the newspaper. Classifieds Column in Dainik Bhaskar publishes every day in the Newspaper but the response are more for Matrimonial Ads on Sunday, Property, Rental Ads on Saturday and Sunday, Recruitment and Name Change Ads on all days.
Options to advertise for Dainik Bhaskar Classifieds:
Classifieds in Dainik Bhaskar can be published in newspaper through the following two options.
Classified Text Ads in Dainik Bhaskar publishes in simple running text format under pre-defined headings provided by the newspaper in classified column of the newspaper every day. Dainik Bhaskar Classified Text Ads are charged based on number of Line or words used in the content with a limitation for using number of lines or words. This are plain text advert but Dainik Bhaskar offers enhancement options to make it highlighted using Background Color, Bold, Tick-mark options. View Ad Rates for Classified Text Advert in Dainik Bhaskar newspaper by clicking on the category above listed which suits your advertising requirement. Check Rates for Individual Edition or Choose from the listed special packages.
Classified Display in Dainik Bhaskar gives freedom to advertiser to design their own ad according to their choice using different font, vibrant images and logo of your company. A bit higher on the price scale, classified display ad in Dainik Bhaskar is more elaborate and eye-catching than classified text. They are charged per square centimeter in Dainik Bhaskar Newspaper. There is an restriction for minimum and maximum Height and Width to be taken. You can choose B/w or Colour as cost may vary. Check Dainik Bhaskar Classified Display Rates by choosing any of the listed category above.
Classifieds in Dainik Bhaskar newspaper are mostly booked for Matrimonial, Property to Rent, Sale of Property, Name Change, Obituary, Lost & Found, Recruitment (Appointment), Business, Vehicles for Sale / Purchase, Education Category. Get instant response by publishing your ad in Dainik Bhaskar because of its wide circulation and loyal readership.
Advantages of booking Ads online for Dainik Bhaskar Newspaper:
With Ads2publish experience the simplest way of booking Classifieds online for Dainik Bhaskar Newspaper at discounted price through our website. With more than 2 decades experience in this Industry we provide the best rates and suggestions to our clients for yielding great results through advertising that too sitting at your place. We are Advertising Agency authorized by Dainik Bhaskar Newspaper to sell their ad inventory. We offer special discounts on Tariff rates to clients who advertise in Dainik Bhaskar through us.
We have a wonderful Customer Support Team from whom you can take any help for booking ad in Dainik Bhaskar Newspaper. You can Contact them through Live Chat or Call on +91-8121003003 and through email.
At Ads2publish there are some popular newspapers listed for which most Classified advertisements are booked. The volume of classified booked online is more for Times of India, Deccan Chronicle, The Hindu, Hindustan Times, Dainik Bhaskar, Dainik Jagran, Eenadu, Lokmat, Malayala Manorama, Sakal, Tribune and many other leading newspapers of India. We Offer extra discounts on newspaper tariff rates.