Malayala Manorama offers a comprehensive suite of advertising options to cater to your specific needs. From captivating display ads to concise classifieds, recruitment ads in Avasarangal, property ads in Property Feature, and even obituary ads in Remembrance & Obituaries feature, you have the freedom to choose the avenue that best suits your message.
Malayala Manorama Newspaper
Manorama is one of the most renowned and widely read newspapers in India, particularly in the state of Kerala. Established in 1888, it has a rich history and has played a significant role in shaping public opinion and disseminating news and information in the region. Here are some key details about Malayala Manorama Newspaper:
Legacy and Reputation: Malayala Manorama has a longstanding legacy of journalistic excellence and credibility. It has consistently maintained high standards of reporting and has been recognized with numerous awards and accolades over the years.
Language and Readership: Published in the Malayalam language, Malayala Manorama caters to the sizable Malayalam-speaking population not only within Kerala but also among Malayali communities around the world. Its readership extends to expatriate Malayalis in the Middle East, North America, Europe, and other regions.
Circulation: Malayala Manorama boasts an impressive circulation, making it one of the largest circulated newspapers in India. Its widespread availability ensures that it reaches urban and rural areas alike, contributing to its extensive reach.
Supplements and Special Features: Malayala Manorama offers a variety of supplements and special features that cater to specific interests of its readers. These may include sections on health, education, Career, women's issues, and more.
Advertising in Malayala Manorama newspaper offers these key advantages: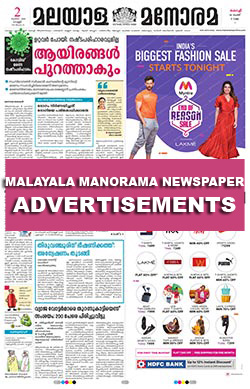 Wide Reach: Connect with a diverse readership in Kerala and among global Malayali communities.
Credibility: Leverage the newspaper's longstanding reputation for credible journalism to enhance your brand image.
Targeted Messaging: Tailor your ads to reach specific segments through specialized supplements and features.
High Circulation: Benefit from the newspaper's extensive circulation, ensuring widespread visibility.
Language Connection: Establish a meaningful rapport by communicating in Malayalam, the heart of Kerala's culture.
Advertising Options: Apart from its robust news coverage, Malayala Manorama provides a platform for advertisers to reach a wide and diverse audience through its various advertising options, including classifieds ads, display ads, and special inserts.
Manorama extends various advertising options in its newspaper like Classifieds, Classified Display and Display Advertisements. Classifieds Column are published every day in Malayala Manorama but for higher response book Matrimonial advertisement for Sunday, Property Advertisements for Saturday and Sunday and Recruitment Advertisements for Wednesday.
Seize the opportunity to place your Classified ads in Malayala Manorama conveniently through Ads2publish's online platform. This streamlined process ensures hassle-free printing of your Manorama Classifieds, enabling you to tap into the newspaper's wide readership and maximize your outreach.