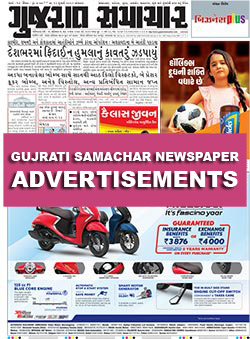 Gujarat Samachar Newspaper: Illuminating Gujarat's Horizons with Credibility and Excellence
Since its establishment in 1932, Gujarat Samachar has remained a steadfast guardian of journalistic integrity, illuminating Gujarat's landscape with credible reporting and enriching content. Proudly presented in the Gujarati language, this daily newspaper has seamlessly blended tradition with modernity, earning its rightful place as Gujarat's premier source of news and information.
As the No. 1 Gujarati newspaper in the state, Gujarat Samachar has fortified its reputation through years of dedicated service. With six editions flourishing within Gujarat's heartlands and an additional edition gracing the vibrant streets of Mumbai, Maharashtra, its influence extends far beyond its origins.
With a readership of over 47,00,000 across its various editions, Gujarat Samachar resonates deeply within households, offices, and communities. Its pages reflect the myriad voices of Ahmedabad, the aspirations of Surat, the spirit of Baroda, the culture of Rajkot, the maritime stories of Bhavnagar, the fervor of Bhuj, and the urban pulse of Mumbai.
Gujarat Samachar is more than a newspaper; it's a conduit for connection, a cornerstone of identity, and a mirror reflecting the shared experiences of Gujaratis across generations. Its influence reaches into homes, cafes, and minds, becoming a trusted companion in daily life.
Through its six editions in Gujarat and the Mumbai edition in Maharashtra, Gujarat Samachar isn't just a newspaper; it's an embodiment of a collective journey, a chronicle of growth, and a source of inspiration. It reaffirms its role as not only a herald of news but a curator of culture, enriching lives and fostering unity across diverse landscapes.
Advantages of Advertising in Gujarat Samachar:
Wide Reach: As the top Gujarati newspaper, it connects with a vast and varied readership, ensuring extensive visibility.
Credibility: With a legacy since 1932, Gujarat Samachar is a trusted source, enhancing your brand's reputation.
Regional Precision: Multiple editions cover specific regions, allowing targeted communication to distinct markets.
Diverse Readership: Its 47,00,000+ readers span demographics, enabling tailored messaging to different segments.
Varied Advertising Options: Choose from classified, display, matrimonial, business, tender, property, and more ad formats.