Sakal Marathi Newspaper: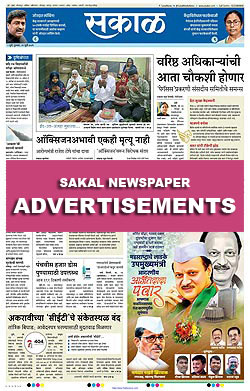 Media Leader: Sakal is Maharashtra's largest independently owned media business.
Diverse Presence: Offering three Marathi and two English dailies, and two Marathi weeklies, Sakal captures the essence of Maharashtra and Goa.
Cultivating Readership: With over six million readers, Sakal is known for authentic reporting and impactful insights, fostering dynamic perspectives.
Global Reach: Beyond print, Sakal connects globally through its e-paper, events, education initiatives, and commercial ventures, illuminating Maharashtra's cultural heritage.
Unlock Opportunities with Sakal Newspaper Advertising:
When you advertise in Sakal Newspaper, you reach over six million readers for wide exposure. Benefit from Sakal's trust and credibility to boost your brand's reputation. Dominate the Pune market and connect with specific consumer groups using various publications. Go global with Sakal's e-paper, reaching audiences worldwide. Advertising in Sakal is more than exposure; it's a chance to build credibility, connect with communities, and make a meaningful impact, resonating far and wide.
Classified Ad in Sakal
Classified Ad which are also called Chotya Jahirati in Marathi language and are published in Sakal Today supplement of Sakal Newspaper. Whether it's job, property, matrimonial, obituary, name change or small business ads, you can get published easily in Sakal Classifieds (Sakal Chotya Jahirati).
Book your classified ads in Sakal Marathi Newspaper effortlessly in Sakal Today supplement which publishes daily in Sakal Pune and other editions. Post Matrimonial Ads on Sundays, Property and Rental Ads on weekends, and Recruitment & Name Change Ads throughout the week.
Seamless and effective connection with your audience through SAKAL SMALL ADS that matter.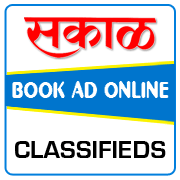 Publishing Page:
Sakal Classifieds
Publishing Days:
All days, (Sunday to Saturday)
Ad Booking Deadline:
1 day Prior for all Classifieds
2 days Prior for
Matrimonial & Property Ads.
To be booked before 11:30 am
Accepted Ad Categories:

Matrimonial, Recruitment, Property Sale & Rent, Name Change, Obituary, Lost Found, Automotives, Business and Services

Hurry Up. Book your classifieds ad in Sakal Newspaper. Booking closes soon for the next edition. Book Now and get instant Confirmation.
For Sakal Classifieds, the base cost covers 5 Lines, with additional Words incurring extra charges. The maximum word limit is 20 Lines. Here are the charges for various Ad Categories in Marathi Newspaper.
Why Ads2Publish for Sakal Ads?
1. Effortless Booking: Simplified online platform for seamless Sakal ad bookings.
2. Authorized and Experienced: Trusted Online Ad Booking endorsed by Sakal with over two decades of expertise.
3. Cost-Effective Excellence: Competitive pricing for outstanding results in Sakal advertising.
4. Expert Support: Dedicated support team available Monday to Saturday for a smooth ad booking experience for Sakal.
5. Proven Success: Thousands of satisfied clients showcase our track record in effective Sakal advertising.
6. One Platform, Many Options: Expand your reach beyond Sakal with Ads2Publish's newspaper ad services.
Reach a wider audience by booking ads in various newspapers like Times of India, Deccan Chronicle, The Hindu, Hindustan Times, Dainik Bhaskar, Dainik Jagran, Eenadu, Lokmat, Malayala Manorama, Sakal, The Tribune, Gujarat Samachar, and more.
Ads2Publish empowers you to make a bigger impact with one platform and multiple options.