Sakal Marathi Newspaper: Navigating Maharashtra's Media Horizon
Sakal Marathi Newspaper, a cornerstone of Maharashtra's media landscape, stands as the largest independently owned media business in the state. From its Pune headquarters, Sakal Group has unfurled a vibrant tapestry of journalistic integrity and innovation.
A Multifaceted Presence: With a diverse portfolio spanning three Marathi and two English dailies, along with two Marathi weeklies, Sakal Group's publications offer a panoramic view of Maharashtra and Goa. Its comprehensive coverage resonates with the region's cultural nuances.
Cultivating Readership: Sakal's unwavering commitment has garnered a readership of over six million, rooted in its authentic reporting and impactful insights. It serves as a platform where voices are amplified, fostering a dynamic exchange of perspectives.
Global Digital Connectivity: In the digital era, Sakal's influence transcends boundaries through its e-paper, connecting a global audience. This online presence expands its reach exponentially, uniting communities worldwide.
Beyond Reporting: Sakal Group's impact extends beyond print, embracing events, education, commerce, and communication. Special events, educational initiatives, yellow pages, and commercial printing showcase its multifaceted approach.
In Maharashtra's media landscape, Sakal Marathi Newspaper isn't just ink on paper; it's a cultural curator, an information nexus, and a catalyst for growth. Anchored in Maharashtra's heritage, Sakal Group navigates the currents of change, illuminating the path with its unwavering commitment to credible journalism and community enrichment.
Unlocking Opportunities: Advertising in Sakal Newspaper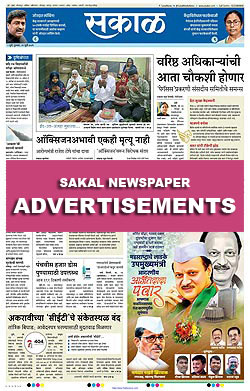 When it comes to strategic advertising, Sakal Newspaper offers a dynamic platform that opens the door to a multitude of advantages:
Broad Engagement: With a readership of over six million, Sakal Newspaper ensures your message reaches a wide and diverse audience, optimizing exposure.
Trusted Authority: Benefit from Sakal's established credibility and journalistic integrity to boost your brand's trustworthiness and reputation.
Local Domination: Seize the Pune market through Sakal's pervasive regional presence, creating a strong local foothold.
Tailored Outreach: Reach specific consumer segments with precision using a variety of publications, including Marathi and English dailies.
Global Amplification: Extend your reach beyond boundaries through Sakal's e-paper, capturing the attention of netizens worldwide.
Advertising in Sakal Newspaper is more than just exposure; it's an opportunity to establish credibility, strengthen community ties, and amplify your brand's impact. With Sakal as your platform, you're not just advertising – you're forging meaningful connections that resonate far and wide.
Chotya Jahirati in Sakal Today: Your Classifieds Destination
Discover the world of Chotya Jahirati in Sakal Today, your go-to supplement for Classified Ads in Sakal Newspaper. Chotya Jahirati covers a range of everyday needs – be it Recruitment, Property Sale or Rental, Small Business Advertisement, and more.
Easily book your classified ads in Sakal Marathi Newspaper. Look no further than Chotya Jahirati, where you'll find these ads published daily in Sakal Pune. To maximize your impact, consider placing Matrimonial Ads on Sundays, Property and Rental Ads over the weekends, and Recruitment and Name Change Ads throughout the week.
Step into the realm of Chotya Jahirati in Sakal Today, where your messaging finds its ideal platform. Connect with your target audience seamlessly and effectively, making your presence known with SAKAL SMALL ADS that matter.