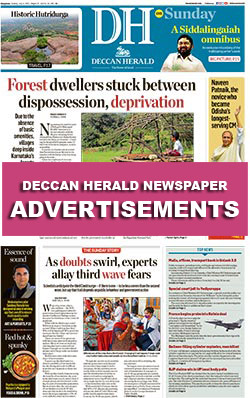 Deccan Herald: Nurturing Karnataka's Reading Culture
Deccan Herald, an esteemed English-language daily newspaper, is a cherished presence in Bengaluru and various cities across Karnataka. Established in 1948 by K.N. Guruswamy, the newspaper has garnered widespread acclaim for its journalistic excellence, robust reporting, and insightful content across diverse domains.
A Gateway to Karnataka's English Readership: Deccan Herald is not merely a newspaper; it's a gateway to engage with Karnataka's English-speaking audience. Its pages serve as a captivating medium to connect with readers who seek well-rounded information and thought-provoking insights.
Wide Regional Outreach: With editions published in six key cities of Karnataka, Deccan Herald reaches readers far and wide. Its dedicated circulation of approximately 4.5 lakh copies every day underscores its influence and impact on shaping public discourse.
Prajavani: A Sisterly Bond: Deccan Herald's family extends to include its cherished sister publication, Prajavani. As a revered Kannada daily newspaper, Prajavani complements Deccan Herald's commitment to provide news and perspectives in two significant languages, fostering a rich linguistic tapestry.
Embracing Change, Preserving Tradition: While embracing the digital age, Deccan Herald retains its core values of balanced reporting and journalistic integrity. Its digital presence, combined with the enduring allure of print, ensures that readers remain informed and engaged through evolving mediums.
Deccan Herald's legacy is a testament to its unwavering dedication to serving readers, fostering connections, and enriching Karnataka's vibrant reading culture. With its reach, influence, and sisterly bond with Prajavani, Deccan Herald continues to illuminate minds and inspire conversations that shape the state's narrative.
Why Advertise in Deccan Herald Newspaper?
Reach English Readers: Advertise here to connect with people who read and speak English in Karnataka.
Covering Many Cities: Your ad will be seen in six important cities across Karnataka, letting more people know about your brand.
Trusted Source: Deccan Herald is a well-respected newspaper, so your ad will be taken seriously by readers.
High Circulation in Bangalore: Many copies of this newspaper are printed every day (about 4.5 lakh copies), meaning your ad will be seen by a lot of people.
Advertising in Deccan Herald gets your message to a big audience in a trusted paper that covers important news and topics. It's a smart way to make your brand known and get people interested.
Book your classified ads in Deccan Herald Newspaper. Classifieds Column in Deccan Herald publishes every day in the Newspaper but the response are more for Matrimonial Ads on Sunday, Property, Rental Ads on Saturday and Sunday, Recruitment and Name Change Ads on all days.