Mid-Day: Mumbai's Quintessential Homegrown Newspaper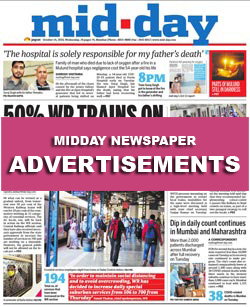 For four decades, Mid-Day has stood as a stalwart presence in Mumbai's media landscape, embodying the essence of the city and its residents. As a 41-year-old brand, Mid-Day has honed its focus on Mumbai, becoming the definitive source for local news, entertainment exclusives, and robust sports coverage.
A Local News Authority: Mid-Day effortlessly marries in-depth local reportage with an unwavering commitment to Mumbai and its people. Its pages are a testament to its dedication to capturing the heartbeat of the city, resonating with readers seeking accurate and timely updates.
Pioneering Entertainment Reporting: Mid-Day's pioneering spirit shines through its innovative approach to journalism. It was the first to introduce a daily entertainment section, Hitlist, offering comprehensive and precise coverage of the film, television, and web industries. This groundbreaking move transformed daily journalism and set a new benchmark.
The Ultimate Guide to the City: Navigating Mumbai's bustling cityscape is made easier with Mid-Day's "The Guide." This distinctive around-town section serves as the city's exclusive leisure guidebook, providing fair and free coverage of all that's new, exciting, and worth experiencing across Mumbai.
A Jagran Prakashan Ltd. Venture: Mid-Day finds its roots intertwined with Jagran Prakashan Ltd (JPL), India's preeminent media and communications group. As a subsidiary of JPL, Mid-Day adds its unique flavor to a conglomerate with vast interests spanning print, radio, OOH, activation, mobile, and digital domains. This affiliation solidifies Mid-Day's position as a key player in India's media landscape.
In a city where the pace never slows, Mid-Day remains a constant companion, delivering news, entertainment, and insights that mirror the vibrant tapestry of Mumbai. As Mumbai's homegrown newspaper, Mid-Day's legacy continues to thrive, capturing the essence of the city and enriching the lives of its residents.
Unveiling the Benefits of Advertising in Mid-Day Newspaper
Advertising in Mid-Day Newspaper presents a range of compelling advantages, making it a strategic choice for businesses seeking impactful outreach and brand recognition:
Local Influence: Benefit from 41 years of Mumbai-centric expertise, connecting directly with the city's vibrant community.
Trusted Source: Leverage Mid-Day's authoritative local news coverage to lend credibility and impact to your advertisement.
Diverse Reach: Reach a wide spectrum of readers through comprehensive coverage, spanning news, entertainment, and sports.
Entertainment Pioneers: Advertise in Hitlist, the pioneering entertainment section, to engage entertainment enthusiasts and trendsetters.
City Exploration: Feature in "The Guide" to become a part of Mumbai's exploration and experiences, showcasing your brand's offerings.
Digital Edge: Extend your reach beyond print by connecting with readers online, enhancing your brand's presence in the digital realm.
Advertising in Mid-Day Newspaper opens the door to a dynamic platform that resonates with Mumbai's pulse, aligns with trusted sources, and showcases your brand's offerings in a captivating and credible manner.
Midday Classifieds Ad Rates:
For Midday Classifieds, the base cost covers 15 Words, with additional Words incurring extra charges. The maximum word limit is 50 Words. Here are the charges for various Ad Categories.
| Ad Rates for | Edition | Rate Starting from |
| --- | --- | --- |
| Midday Matrimonial Ad | Mumbai | Rs. 1300/- for 15 Words |
| Midday Recruitment Ad | Mumbai | Rs. 1300/- for 15 Words |
| Midday Property Sale Ad | Mumbai | Rs. 1300/- for 15 Words |
| Midday Property Rent Ad | Mumbai | Rs. 1300/- for 15 Words |
| Midday Business Ad | Mumbai | Rs. 1300/- for 15 Words |
| Midday Name Change Ad | Mumbai | Rs. 1850/- for 15 Words |
| Midday Vehicle Sale Ad | Mumbai | Rs. 1850/- for 15 Words |
| Midday Lost Found Ad | Mumbai | Rs. 1850/- for 15 Words |
Book classified ad in Midday Newspaper. Midday is a English Daily newspaper publishing from Mumbai in Maharashtra State. Midday also publishes in Gujarati Language from its Mumbai Edition. You can book classified and display advertisement in Midday Newspaper online easily in both English and Gujarati Edition. Book Matrimonial, Business, Property, Recruitment, Name Change, Services and other categories advertisements at discounted prices in Midday Newspaper.
Ads2publish.com is a unique online classified Ad booking service where you can book classified Ads for all leading Newspapers in India.