Telangana Today Classifieds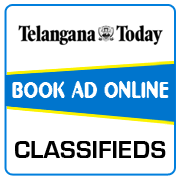 Cost-Effective Ads: Telangana Today Classifieds offer budget-friendly options for Property, Jobs, Matrimonial, and more.
Quick Online Booking: Easily place your ad online for swift Telangana Today classified bookings.
Targeted Reach: Ideal for specific needs, reach the audience actively seeking your offerings through Telangana Today.
Authentic Responses: Experience rapid engagement and genuine responses with Telangana Today Classifieds.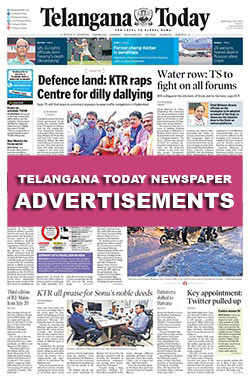 Telangana Today Classifieds Online Booking:
Booking classified ads in Telangana Today newspapers has never been easier. Follow these straightforward steps for quick online booking:
Step 1: Choose Your Classified Ad Category. Pick the category that best suits your ad, whether it's real estate, jobs, services, or more.
Step 2: Select the City or Edition. Specify the city or edition of Telangana Today where you want your ad to appear. Reach your desired audience effectively.
Step 3: Compose Your Ad, select date and Make Payment. Compose your ad with the necessary details – concise and engaging. Then, proceed to make a secure online payment.
Publishing Page:
Telangana Today Classifieds
Publishing Days:
All days, (Sunday to Saturday)
Ad Booking Deadline:
1 day Prior for all Classifieds
2 days Prior for
Matrimonial & Property Ads.
To be booked before 11:30 am
Accepted Ad Categories:
Matrimonial, Recruitment, Property Sale & Rent, Name Change, Obituary, Lost Found, Automotives, Business and Services
Hurry Up. Book your classifieds ad in Telangana Today Newspaper. Booking closes soon for the next edition. Book Now and get instant Confirmation.