Navbharat Times Classifieds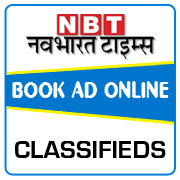 Navbharat Times Classified Ads are the most cost-effective option of advertising in the newspaper. Get the best response through Navbharat Times Classifieds Ad for Property, Jobs, Matrimonial, Services, Vehicles, Buy/Sell, and Name Change Announcements categories.
Classifieds Ads in Navbharat Times Newspaper are Charged by Word or Lines with a limited space provided. There are some enhancement options also offered in Navbharat Times classifieds to enhance the ad visibility.
Here are some advantages of posting Classifieds Ad in Navbharat Times:
Quick Online Booking: Navbharat Times classifieds can be placed quickly by booking it online through this website.
Ideal for Specific Needs: Matrimonial, job listings, real estate, rentals, personal announcements, and more – Navbharat Times classifieds are best for this specific requirements.
Targeted Reach: People who are looking for what you are offerings mostly reads Navbharat Times classifieds.
Authentic Responses from Classifieds: Rapid and receptive reader engagement in Navbharat Times leads to genuine responses.
Ready to get noticed? Easily book your classified ad in Navbharat Times Newspaper online through this user-friendly website. Follow a few simple steps to publish your ad.
Booking classified ads in Navbharat Times newspapers has never been easier. Follow these straightforward steps for quick online booking: